Trump Appointee Federico Klein Arrested Over Capitol Riot Give A Gift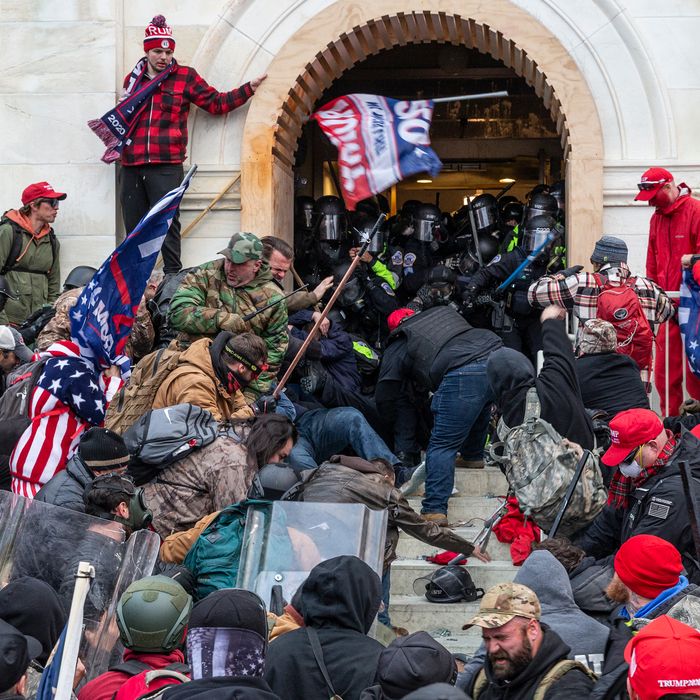 Photo: Pacific Press/Pacific Press/LightRocket via Ge
The FBI announced Thursday that it had arrested Federico Klein, a former State Department official appointed by Donald Trump, on multiple felony charges in connection to the January 6 attack on the U.S. Capitol, as first reported by Politico. This makes Klein the first known member of the Trump administration to face legal trouble for the insurrection.
According to a court document first published by the New York Times, Klein, 42, began working for the State Department in 2017 in the Office of Brazilian and Southern Cone Affairs. Klein was employed by the department on January 6 and, at that time, even possessed a top-secret security clearance.
Klein was observed on Capitol surveillance videos and Metropolitan Police Department body cams on the day in question wearing a "Make America Great Again" hat, dress shirt, dress pants, and a green jacket.
The FBI alleged that Klein was seen in a tunnel near a Capitol entrance trying to force his way through a line of law enforcement officers.
Klein "quickly pushed his way to the front-left side of the crowd and to the doorway to the Capitol building, where he physically and verbally engaged with the officers holding the line, thereby affecting their ability to disperse the crowd," the document read.
At one point, Klein obtained a riot shield that had been taken from one of the officers and allegedly "pushed the riot shield in between the doors to the Capitol, preventing officers from closing the doors."
In another moment, Klein "violently shoved the shield into an officer's body in an attempt to breach the police line."
In other videos posted to YouTube that showed the crowd fighting with law enforcement, Klein could be seen "calling back to the crowd behind him, 'We need fresh people,'" the FBI said.
Cecilia Klein, the mother of the accused, told Politico that her son had said he was on the Mall that day, but that she wasn't sure if he had entered the Capitol itself.
"As far as I know, he was on the Mall. That's what he told me," she said.
Trump State Department Appointee Arrested Over Capitol Riot
THE FEED
covid-19 stimulus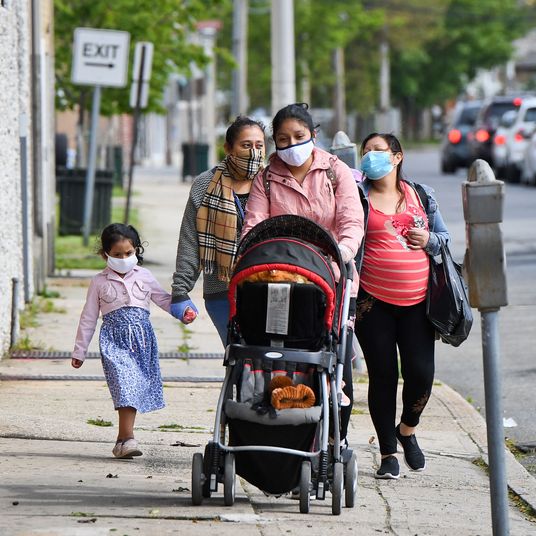 covid-19 stimulus
What Will Parents Get From the COVID-19 Relief Bill?
By Ed Kilgore
Between a third stimulus check and enhanced child tax credits, low-to-moderate-income parents would get a lot of help — though it could be temporary.
the national interest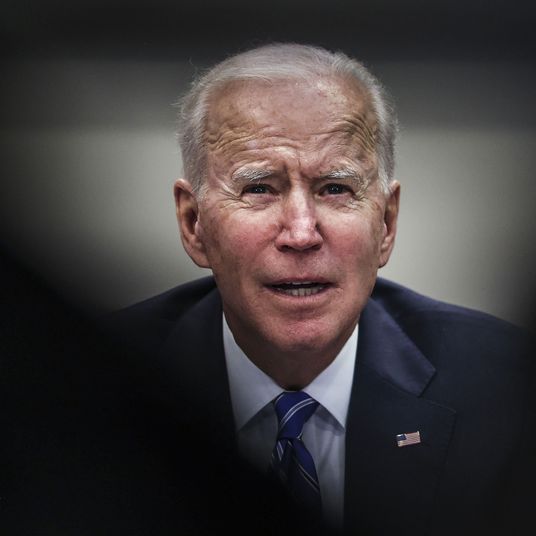 the national interest
Neanderthals Were Smarter Than Anti-Mask Republicans
By Jonathan Chait
The right is angry, but Biden was probably too kind to Greg Abbott.
culture war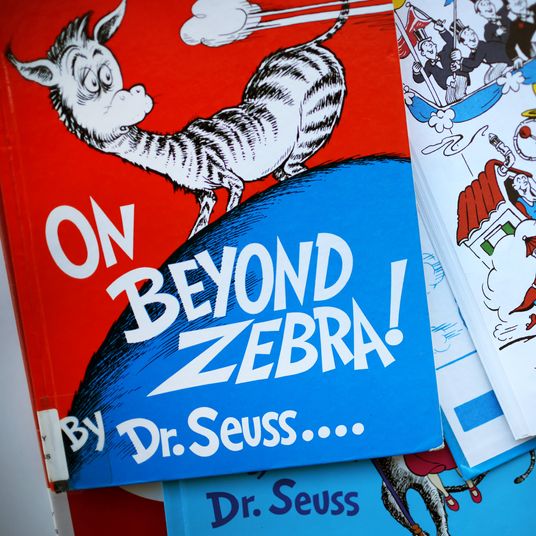 culture war
The Right Would Rather Debate Kids' Books Than Biden's Bills
By Eric Levitz
As Democrats ready a major expansion of Obamacare and child welfare, GOP lawmakers are whining about Dr. Seuss and Mr. Potato Head.
vaccines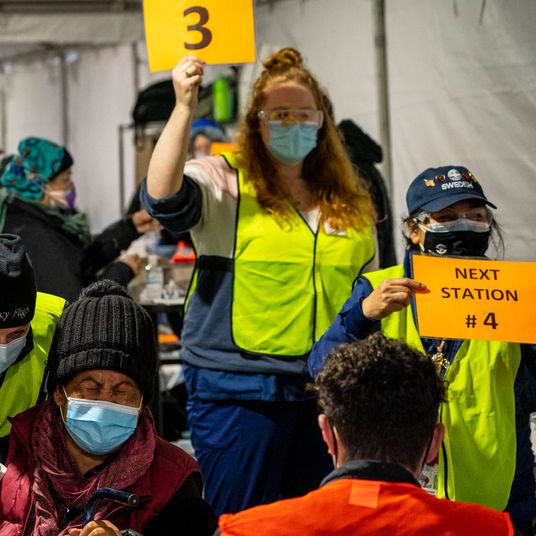 vaccines
Vaccine Hesitancy Is Falling, According to a New Poll
By Paola Rosa-Aquino
The number of people who say they want a shot (or have already gotten one) has jumped way up.
covid-19 stimulus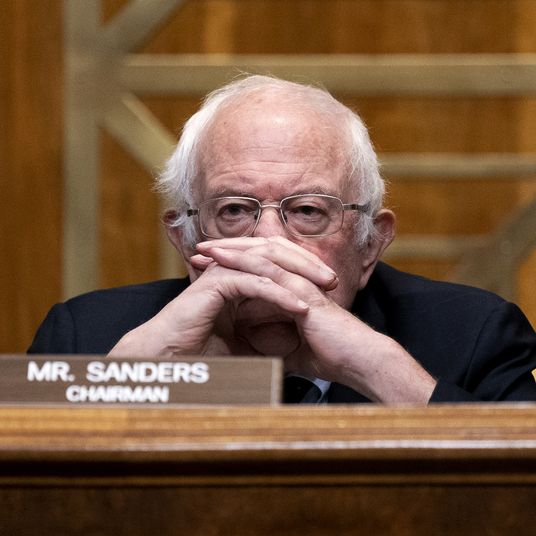 covid-19 stimulus
Senate Likely to Vote on COVID-19 Stimulus Package This Weekend
By Ed Kilgore
Democrats are already accepting changes in the bill to preempt Republican amendments, and Sanders's minimum wage bid has already been defeated.
capitol riot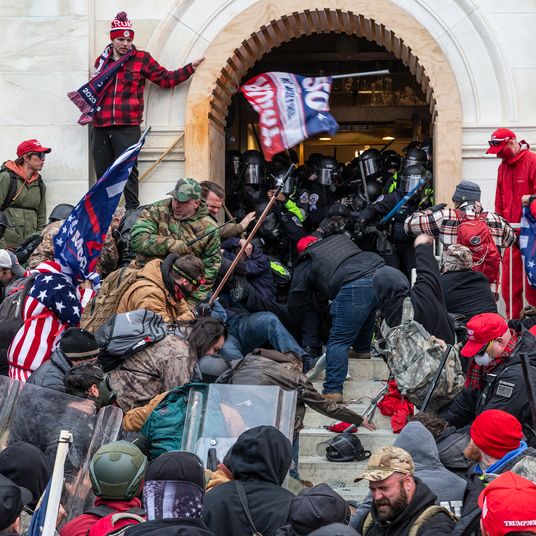 capitol riot
Trump State Department Appointee Arrested Over Capitol Riot
By Nia Prater
The FBI said Federico Klein stormed the Capitol and assaulted an officer. He's the first Trump administration member charged in the insurrection.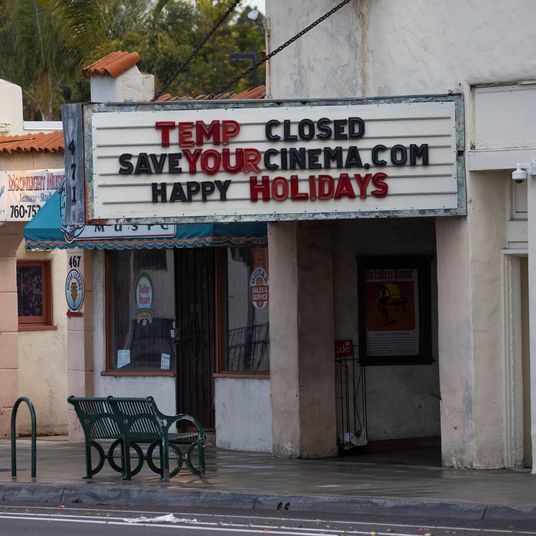 pivot
Are Movie Theaters Completely Screwed?
By Intelligencer Staff
For an already troubled industry that has been battered by the pandemic, there may be a narrow path to survival.
politics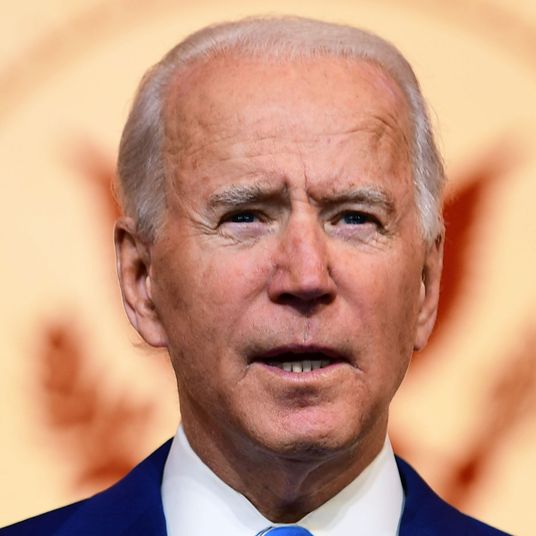 politics
Democrats Shouldn't Count On a 'Morning In America Midterm'
By Ed Kilgore
Midterms are different from presidential elections, and 1984 isn't 2022.
Most job gains were in the leisure and hospitality sector, which includes restaurants
Hiring accelerated sharply in February as restaurants and other hospitality businesses reopened, adding 379,000 to U.S. payrolls and fueling renewed growth as the coronavirus pandemic eases.
U.S. employers added jobs for the second straight month in February, the Labor Department said Friday, in what marks a sharp pickup from earlier this winter.
The unemployment rate, determined by a separate survey, ticked down to 6.2% last month. The jobless rate is well down from a 14.8% peak in April 2020, but remains above pre-pandemic levels, when unemployment was near 50-year lows. 
U.S. Economy Added 379,000 Jobs in February
covid-19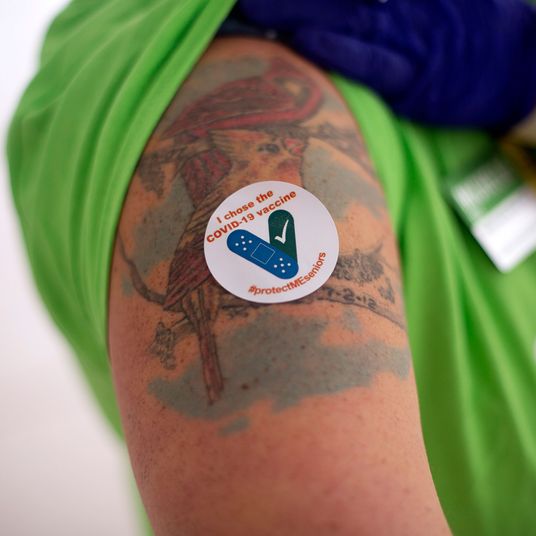 covid-19
How to Overcome Fear of Needles to Get Vaccinated, According to Experts
By Eve Peyser
"Shots in arms" isn't exactly a comforting phrase for many.
politics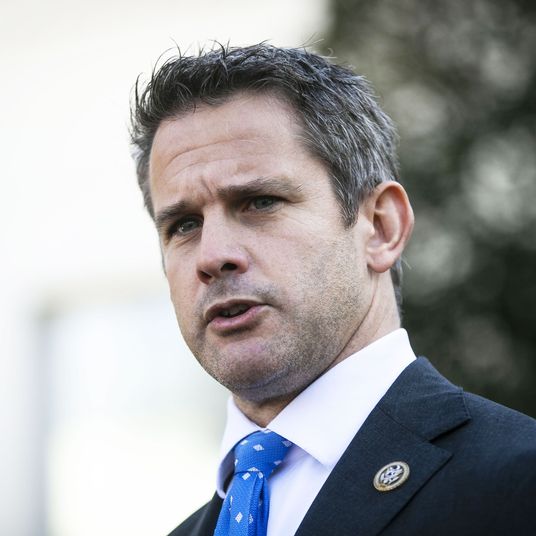 politics
Adam Kinzinger's Bold Prediction: Trump Will Fade Away
By Ben Jacobs
The Republican congressman tries to save his party and himself.
andrew cuomo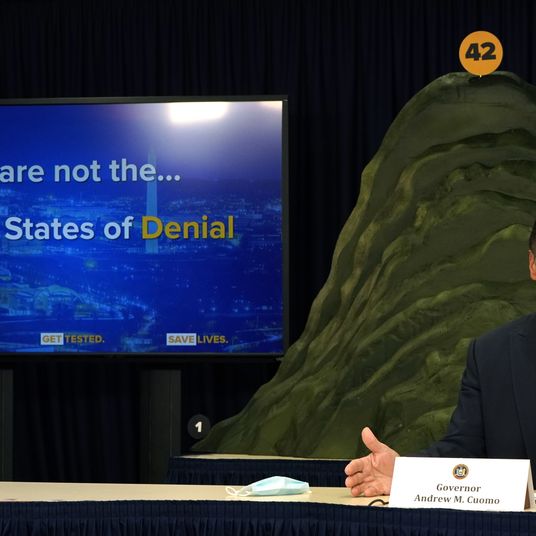 andrew cuomo
Cuomo Aides Allegedly Altered Report on Nursing-Home Deaths to Hide Real Toll
By Matt Stieb
The new details on the governor's manipulation of nursing-home deaths reveals a more extensive effort to hide the data than what was already known.
insurrection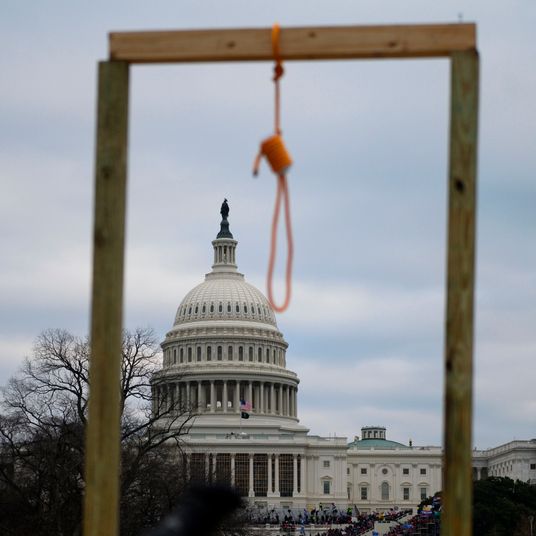 insurrection
Feds Investigate Communications Between Lawmakers and Capitol Rioters: Report
By Matt Stieb
The probe into the insurrection is moving on from rounding up more obvious suspects to determining how the attack was coordinated.
immigration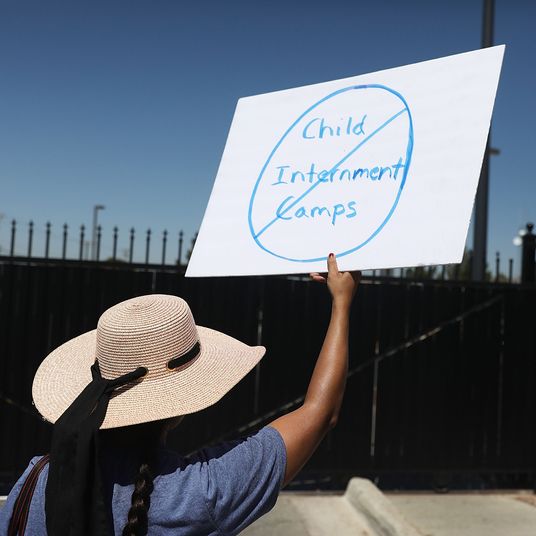 immigration
Biden Takes Step to Roll Back Obama's Migrant Detention Policy
By Matt Stieb
Homeland Security is turning detention centers into screening facilities that would release families into the U.S. within 72 hours of their arrival.
new york city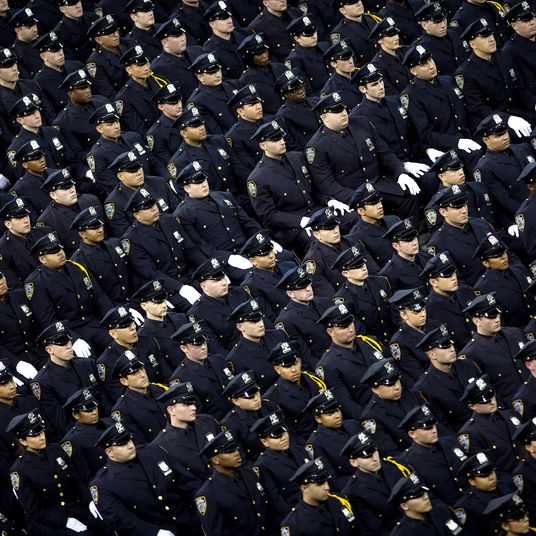 new york city
The City Just Released a Massive NYPD-Misconduct Database
By James D. Walsh
The move follows the repeal of 50-a, the state law that had long shielded police-misconduct records from public scrutiny.
politics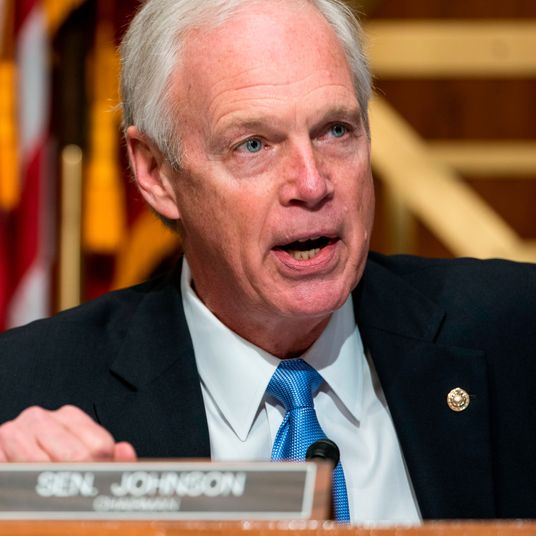 politics
Ron Johnson Makes Senate Read 600-Page COVID Relief Bill Aloud
By Nia Prater
The Wisconsin Republican said his aim is to "educate the public," but Democrat Tim Kaine countered that it's a maneuver "designed to annoy everyone."
the filibuster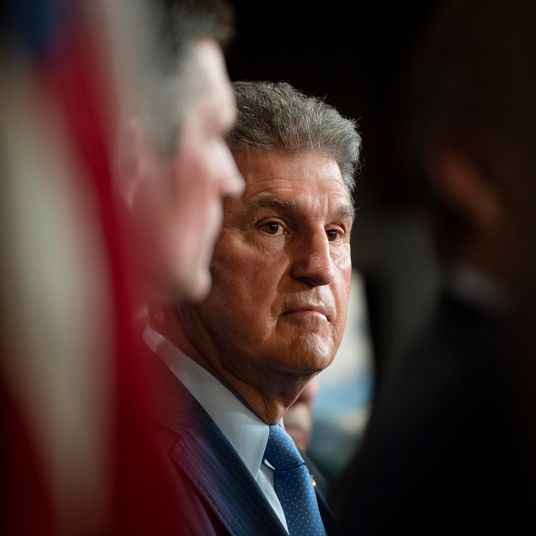 the filibuster
How Dems Can Turn Filibuster Reform Into the 'Moderate' Option
By Eric Levitz
The imperative to pass a new voting rights act – and renew Biden's child allowance – could erode moderate resistance to weakening the filibuster.
the national interest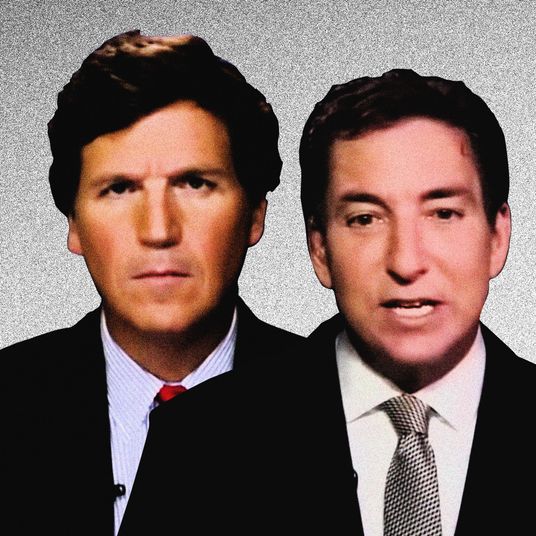 the national interest
Why Glenn Greenwald Says Tucker Carlson Is a True Socialist
By Jonathan Chait
It's a (National Socialist German) workers' party now.
death penalty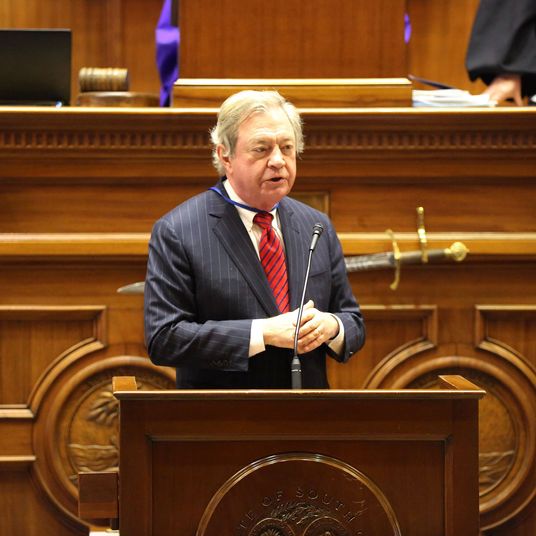 death penalty
South Carolina Understands What the Death Penalty Is For
By Sarah Jones
State senators want to execute people by firing squad. That would be as brutal as the death penalty itself.
revenge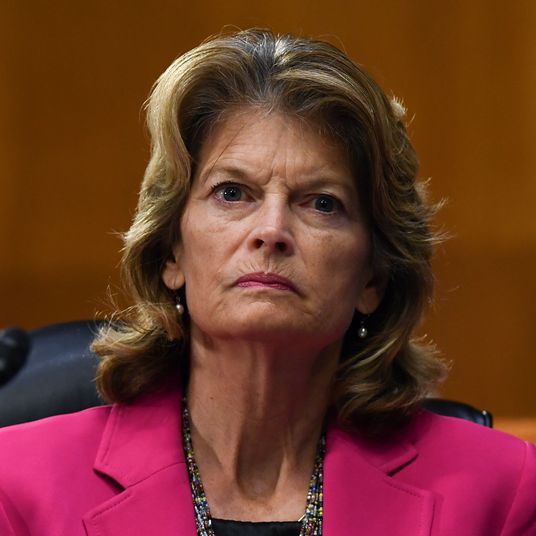 revenge
Trump's Plan to Oust Murkowski May be Foiled by Long Flight
By Benjamin Hart
This is when a Twitter account would really come in handy.
politics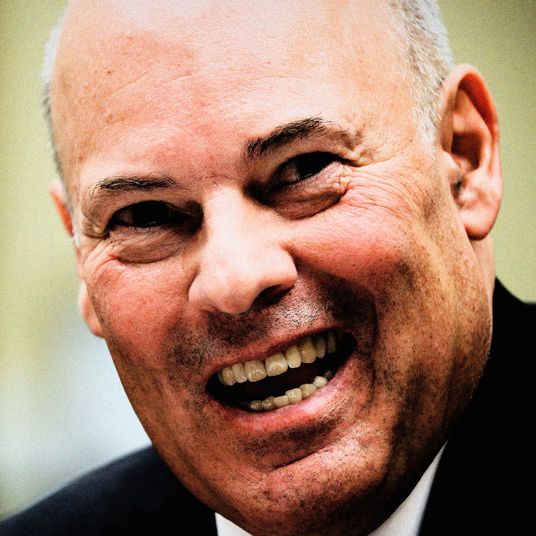 politics
Louis DeJoy Is Killing It
By Casey Taylor
While Biden dithers, Trump's minion wrecks the postal service.
scandals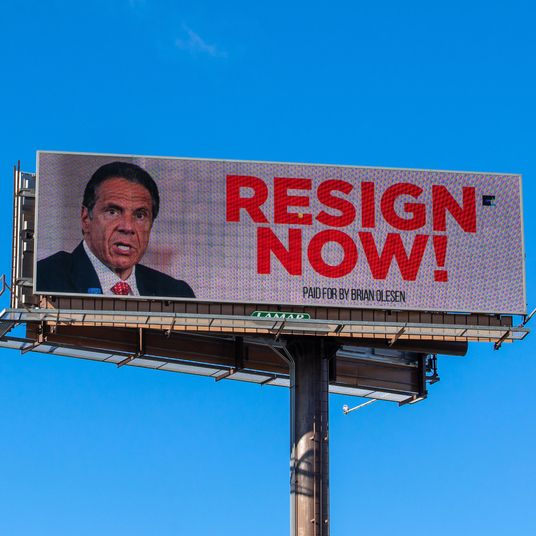 scandals
Everyone Who Has Called for Governor Cuomo to Resign
By Nia Prater
As the scandal over COVID policies is compounded by harassment allegations, a growing number of elected officials say he must resign or be impeached.
politics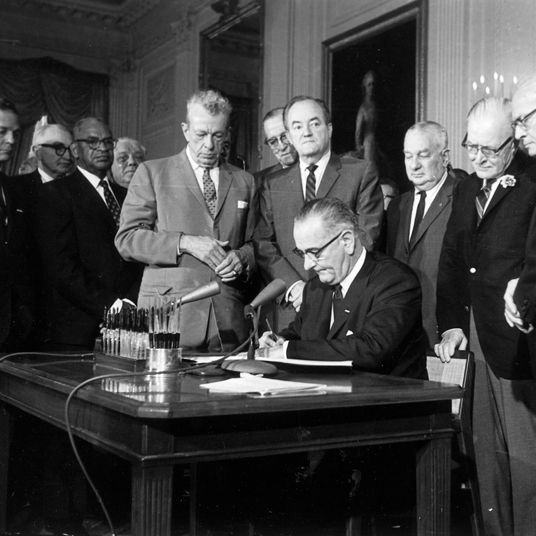 politics
Will Democrats Act Like the Party of Voting Rights or Not?
By Ed Kilgore
The conservative Supreme Court and GOP are set to do even more damage unless they're stopped.
Maybe Chao's resignation on January 7 wasn't about the Capitol riot?
While serving as transportation secretary during the Trump administration, Elaine Chao repeatedly used her office staff to help family members who run a shipping business with extensive ties to China, a report released Wednesday by the Transportation Department's inspector general concluded.
The inspector general referred the matter to the Justice Department in December for possible criminal investigation. But in the weeks before the end of Trump administration, two Justice Department divisions declined to do so.
Ms. Chao, the wife of Senator Mitch McConnell of Kentucky, the Republican leader, announced her resignation on Jan. 7, the day after the Capitol riot. At the time of her departure, an aide to Ms. Chao said her resignation was unrelated to the inspector general's investigation.
… The investigators did not make a formal finding that Ms. Chao violated ethics rules. But they detailed more than a dozen instances where her office took steps to handle matters related to her father, who built up a New York-based shipping company after immigrating to the United States from Taiwan in the late 1950s, and to her sister, who runs the company now.
Inspector General's Report Cites Elaine Chao for Using Office to Help Family
politics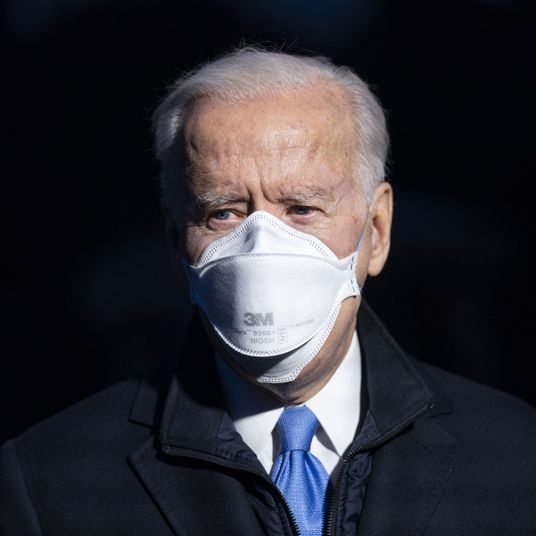 politics
Give Biden a Break
By Ed Kilgore
The left and the media have lost perspective. He's soon going to sign an enormous, progressive stimulus bill and get his Cabinet confirmed.
trump taxes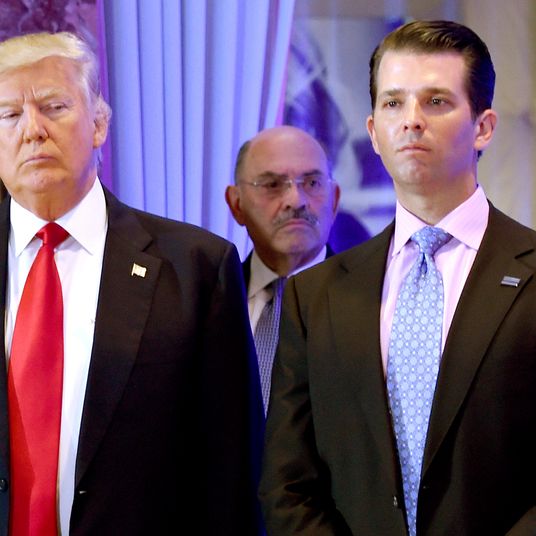 trump taxes
Criminal Investigation Into Trump Org Aimed at 'Flipping' Longtime CFO: Report
By Matt Stieb
The ex-president who speaks like a mob boss is reportedly being investigated like one.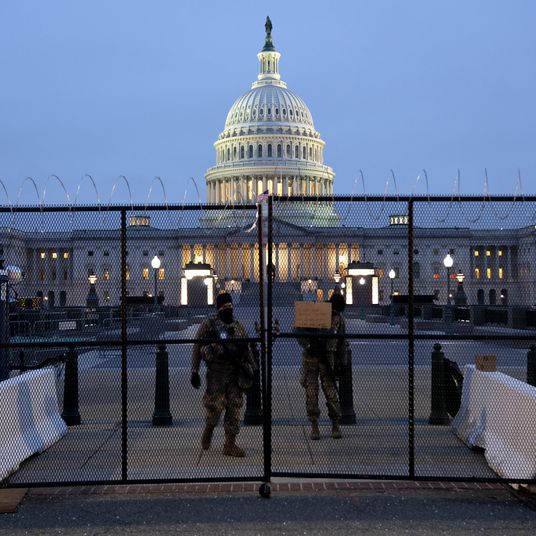 qanon
House Cancels Thursday Session After Warning of 'Possible' Militia Attack
By Matt Stieb
After Capitol Police told lawmakers of a potential attack on the complex by Trump supporters, the House wrapped up a Thursday vote on Wednesday night.
Email You'll receive the next newsletter in your inbox. *Sorry, there was a problem signing you up.
This site is protected by reCAPTCHA and the Google Privacy Policy and Terms of Service apply.
Email You'll receive the next newsletter in your inbox. *Sorry, there was a problem signing you up.
This site is protected by reCAPTCHA and the Google Privacy Policy and Terms of Service apply.
Email You'll receive the next newsletter in your inbox. *Sorry, there was a problem signing you up.
This site is protected by reCAPTCHA and the Google Privacy Policy and Terms of Service apply.
Email You'll receive the next newsletter in your inbox. *Sorry, there was a problem signing you up.
This site is protected by reCAPTCHA and the Google Privacy Policy and Terms of Service apply.
Email You'll receive the next newsletter in your inbox. *Sorry, there was a problem signing you up.
This site is protected by reCAPTCHA and the Google Privacy Policy and Terms of Service apply.