By On 3/3/21 at 5:26 AM EST
Culture Donald Trump Vladimir Putin Candace Owens Instagram
Azealia Banks has shared a list of people she loves and it includes Donald Trump and Vladimir Putin.
The controversial rapper is known for her wild rants and bizarre antics and has endorsed Trump in the past.
Posting to Instagram this week, the 29-year-old told fans she was sharing the list because her then-fiance Ryder Ripps encouraged her not to hold hate in her heart.
Sharing a photo with a handwritten list, Banks' caption reads: "@ryder_ripps says I need to practice not being such a hater so I made a list of people I love."
At first glance, the name that jumps out is Lil Kim which is circled in a love heart in the center.
"Mike Tyson, Lenny Kravitz, Donald Trump, Kelsey Lu," the list begins.
View this post on Instagram
Numerous celebrities are listed including the names Naomi Campbell, Shakira, T-Pain, Dennis Rodman, North West, Cher, Britney Spears and Karl Lagerfeld to name a few.
On the list is performer Ariel Pink who was recently mocked for taking part in a Tucker Carlson interview after he was dropped by his record label for attending the Capitol Riot on January 6.
Banks also appears to have written Anjelica Pickles, the fictional character from the Rugrats.
Elsewhere on this, Banks wrote the name of Candace Owens, the conservative pundit and Trump supporter known for her Twitter feuds who recently said she is "thinking about running for President."
Banks also included comedian Dave Chapelle on the list, which may surprise some as the rapper called him out in May 2020 over her claims that they had an affair.
Chappelle has been married to his wife, Elaine Chappelle, since the early 2000s.
The list was posted on March 2 and it has since emerged that the "212" hitmaker has "dumped" her fiance Ripps, just one week after getting engaged.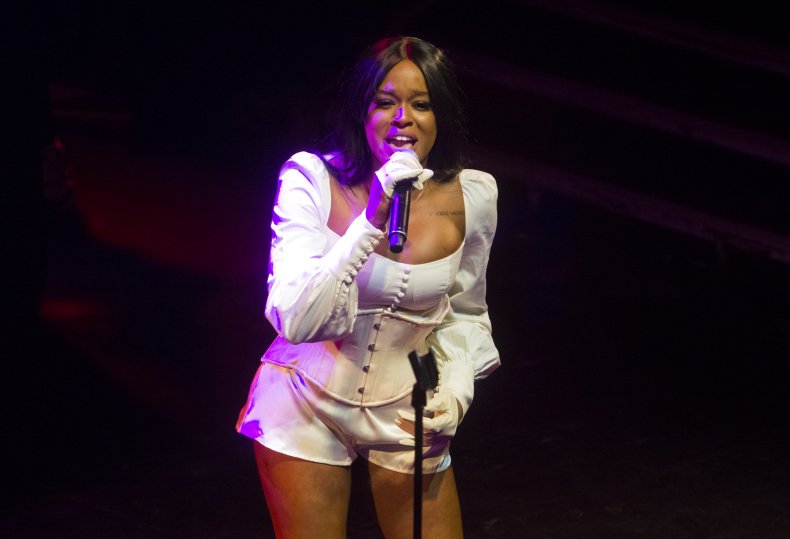 Azealia Banks performs at KOKO on January 25, 2019 in London, England. Matthew Baker/Getty Images
Read more
On Monday, Banks announced the relationship was over on Instagram, saying that the conceptual artist was "too insecure for the wildly creative she-wolf" in her.
However, she said she was keeping the menorah engagement ring Ripps gave her, telling followers: "The heirloom is mine. The Jewcy Diva lives on."
The engagement came as a surprise to many last month and Bank's enthusiastic reaction caused a stir with fans.
"I'm Jewish now. MAZEL TOV B*****S! WE IN HERE…. YERRRRRRR" she told fans at the time.
Banks made headlines in 2018 when she was embroiled in a strange controversy with tech mogul Elon Musk and pop singer Grimes.