Four years ago, in the early weeks of Donald Trump's presidency, I wrote an article describing him as an Ebola-level global health threat.
That was obviously a gross under-estimate. And Ebola was the wrong comparison. The outbreak that began in 2013 in West Africa, the worst in history, took about 11,000 lives. (Another outbreak has just started in Guinea, but now it can be fought with experienced health-care workers and vaccine.)
Compared to the lives Trump is responsible for shortening or ending, Ebola was a rounding error. In a recent article, science writer Laurie Garrett charged him with pandemicide. But COVID-19 is only one factor in the deaths caused by Trump and a 40-year attack on American public health.
Soon after I wrote my 2017 article, The Lancet, a major British medical journal, established one of its commissions. Unlike its other commissions that look at the impact of this or that disease, this one was to focus on the impact of Trump and his policies.
That commission has now published "Public policy and health in the Trump era," an indictment not only of Trump but of the 40 years of neoliberal policies begun by Ronald Reagan. It may take another 40 years to repair the damage.
Join us and grow independent media in Canada
"Trump's appalling response to 2020's crises culminated a presidential term suffused with health-damaging policies and pronouncements," the commission says. "The Lancet Commission on Public Policy and Health in the Trump Era, launched in April, 2017, soon after Trump's inauguration, was tasked with chronicling repercussions of the administration's actions and charting policies for a healthy future. We did not know then what the consequences of president Trump's era would be."
The COVID-19 pandemic was among those consequences, but it was not the only one. It has been widely documented for decades that most Americans have been poorer and sicker than their parents and grandparents.
The commission notes that among other things, Trump politicized and rejected science, leaving the U.S. unprepared and exposed to the COVID-19 pandemic; undermined health coverage; weakened food assistance programs; undermined global co-operation for health; and triggered trade wars.
And it said previous administrations since Reagan had prepared the ground for Trump with terrible consequences. Life expectancy in the U.S. has lagged behind other wealthy nations since 1980 and began falling in 2014; First Nations' chronically high mortality rates started rising in 1999; and yawning disparities between Black and white people persisted over decades. In the last four decades, substance abuse deaths greatly increased, income and wealth inequality widened and funding cuts reduced the frontline public health workforce by 20 per cent while nearly 30 million people in the U.S. remained uninsured.
Every American social class is healthier than the class below it, and sicker than the class above it. Cuts to social programs like health and education have paid for enormous tax cuts for the rich. In effect, U.S. governments have created a new plutocracy funded by American workers.
The phoney plutocrat
Trump is not a plutocrat, but he played one both on TV and in the White House. As a reality TV star, he entertained millions of poor people with impossible dreams of getting rich. As a candidate, he won their votes and, with the financial support of real plutocrats like the Mercer family and the Koch brothers, he made life worse — and often shorter — for the very people who voted for him.
The Lancet commission shows how Trump delivered the coup de grâce to a population already living shorter, less happy lives than people in other G7 nations like Canada. If Americans had continued to enjoy the average life expectancy of those nations — in 2018 alone, well before the pandemic — America's population would have been 461,000 higher than it was.
"To put this number in context," the commission says, "the number of missing Americans each year is more than the total number of COVID-19 deaths in the U.S. in all of 2020."
And the people who die early tend to be Trump's supporters. The commission looked at counties in which more than 60 per cent of people voted for Trump or Clinton in 2016. In 1980, pro-Trump counties had higher life expectancies than the pro-Clinton counties. By 2014, life expectancies in the Trump counties were two years shorter than the Clinton counties.
Dying to support austerity
Grotesquely, such impoverished white voters have tended for 40 years to vote for Republican austerity policies, "swayed by their misperception that progressive economic policies mainly benefit people of colour."
This con game has been in place since the 17th century, when British colonial landowners persuaded poor whites that however wretched they might be, they were superior to Black slaves.
The Jan. 6 Capitol riot shocked the world, with all of five deaths. The commission notes that Trump's policies were responsible for far more deaths. "The global COVID-19 pandemic has had a disproportionate effect on the USA, with more than 26 million diagnosed cases and over 450 000 deaths as of early February 2021, about 40 per cent of which could have been averted had the U.S. death rate mirrored the weighted average of the other G7 nations."
That means some 180,000 Americans — disproportionately people of colour and low-income — died not from COVID-19 so much as from policy. Never mind the 22,000 killed by his environmental deregulation, or the many thousands killed overseas by Trump's cuts to global health programs.
Between the pandemic and other causes of excess mortality, the U.S. life expectancy fell by a full year in the first six months of 2020. American lives are likely even shorter now, and life expectancy will continue to fall until the underlying social conditions are remedied.
"Many of president Trump's policies have yet to extract their full toll of ill-health," the commission says. "Some of the damage, as in the case of climate change, will last generations."
Making future Trumps impossible
When 40 years of neoliberal policies have caused so many people's deaths, actually trying and convicting Trump seems as pointless as the medieval practice of trying pigs for their crimes. Jailing him would be no deterrent to future Trumps.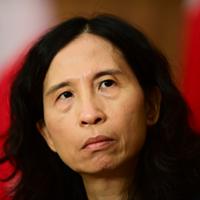 Dr. Tam's Bold Diagnosis of What Ails Canada
Far better to make such Trumps impossible, as the Lancet commission recommends. By taxing the rich "and using the proceeds to strengthen social, education, nutrition and health programs." By creating single-payer health care systems around the world and ending oppression of communities of colour. By equality of access to the ballot box and the classroom. By reducing military spending and investing the money in health, environment, science and foreign aid, where it will earn a far better return.
Like invasive weeds, future Trumps might still sprout in such a world. But they would find themselves in a healthy ecosystem that would give intruders no space to prosper.
That ecosystem would also make it far harder, if not impossible, for future pandemics to gain a foothold. The viruses would stay in their undisturbed forests. Bacteria and viruses that did attack us would be bluntly repelled by healthy, well-prepared populations, whether in Canada or Africa.
Perhaps such a strong, prepared world seems unlikely. So did a world ruled by Donald Trump.