The Jockey Club of Saudi Arabia created the $500,000 Saudi International Handicap to encourage participation on its big weekend by jurisdictions around the world outside Part I of the International Federation of Horseracing Authorities.
The concept worked, despite pandemic-related travel issues, with a field representing Spain, the Czech Republic, and Bahrain.
But then the winner came from a jurisdiction the organizers would rather see move up into Part I—Saudi Arabia.
Locally trained Petrus rallied from off the pace to win by 2 1/4 lengths under Wigberto Ramos, a Panama native who has been riding in Saudi Arabia for 23 years.
"This kind of race is fantastic and brings more quality horses to race in Saudi Arabia," Ramos said.
Petrus, a 6-year-old son of Zoffany, marked his third win in Saudi Arabia since being imported from the United Kingdom. There, he had been winless since April 2019.
The first day of the two-day Saudi Cup meeting at King Abdulaziz Racetrack otherwise focused on jockeys' challenges—the official stc International Jockeys Challenge on the track and the frustrating travel challenge that short-circuited U.S. riders' Umberto Rispoli and John Velazquez scheduled opportunities in the $20 million Saudi Cup.
Mike Smith, after subbing for Velazquez in the Jockeys Challenge, was a master of tact as he discussed the whip and weigh-in violations that cost him a huge fine during the 2020 Saudi races.
Irishman Shane Foley won two of the four legs of the stc International Jockeys Challenge to take the title with 30 points.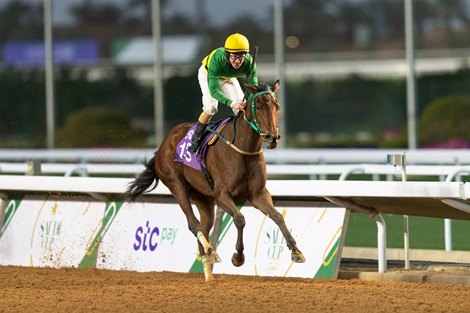 Photo: Jockey Club of Saudi Arabia/Neville Hopwood
Motawariyah with Shane Foley aboard wins Round 3 of the 2021 International Jockeys Challenge at King Abdulaziz Racetrack
"It's massive to win this," said Foley, who rides for trainer Jessica Harrington at home. "It's a nice break and during a quiet time for us during the winter, so it's nice to get away and get the opportunity … It's great to win and obviously can't do my career any harm."
Saudi Arabian jockey Adel Alfouraidi finished second overall with a victory in the fourth leg aboard a filly owned by Prince Faisal bin Khaled bin Abdul Aziz.
Mike Smith won the first leg and finished third overall with Japan's Nanako Fujita and Sweden's Malin Holmberg tied for fourth. Jessica Marcalis took sixth for Italy.
Smith reflected on the 2020 contretemps while looking forward.
"I tell you, I enjoy riding here, I really do," said Smith, who rides Charlatan for trainer Bob Baffert in the $20 million Saudi Cup. "I know I made a few mistakes and I had to pay for them last year and rightly so. But it's good to come back and try to redeem myself, and we will see what happens.
"Lessons learned. You learn from big things like that and I learned a big lesson and I humbled myself a whole lot and then I am ready for tomorrow. I'm very happy to be back, and I'm happy to be back with a horse that has an abundance of talent."
The Jockey Club of Saudi Arabia said in a statement Velazquez' and Rispoli's travel interruptions were due to "COVID restrictions and testing protocols, coupled with the complications of canceled flights due to scheduling changes and severe weather conditions …
"We understand and share John and Umberto's disappointment at not being able to ride at the meeting."
Rispoli was to have ridden Max Player in the Saudi Cup and Cowan in the Al Rajhi Bank Saudi Derby, both for Steve Asmussen. Velazquez was booked to partner Tacitus in the Saudi Cup.