Around the NFL
Johnny Manziel was back on a football field this weekend.
The former Cleveland Browns first-round draft pick participated in the Fan Controlled Football league on Saturday night. It was Manziel's first game since 2019 with the Alliance of American Football. The 28-year-old hasn't played an NFL game since 2015 in Cleveland.
Manziel completed 1-of-5 passes for 11 yards while rushing for 67 yards and a TD on eight carries as his Zappers lost 48-44 to the Beasts.
"Feels like I'm super washed up, but still had a blast," he said after the game, via Josh Peter of USA TODAY. "That was the most fun I've had in a while."
The highlight of Manziel's night was a 38-yard run on his first play from scrimmage.
The FCF is an arena league played on a 50-yard field that is 35 yards wide. The start-up league includes investors with NFL ties: Chad Johnson, Marshawn Lynch and Richard Sherman.
"We're having a blast," Manziel said. "This league is fun, and everybody that's here is having a good time, so we'll keep getting better."
The former Heisman Trophy winner hasn't received interest from the NFL in years, and Manziel doesn't sound concerned with finding another football-playing career. He joined the FCF just for fun.
"The product will keep getting better as the weeks go on," Manziel said. "Good start even with the loss. You know, win or lose we booze on the Zappers."
Related Content
news
Washington hires Chris Polian as director of pro personnel
The Washington Football Team is adding another voice to its front office. Washington is hiring Chris Polian as director of pro personnel. Polian spent 2013-2019 in Jacksonville with the same title.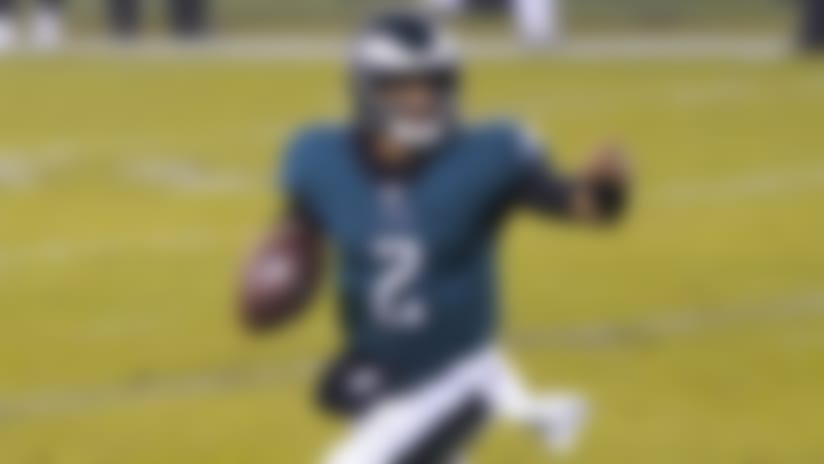 news
Jalen Hurts reportedly expected to gather Eagles receivers for workouts
John Clark of NBC Sports Philadelphia reported last week that Hurts will gather with a group of young Eagles receivers in Texas at some point in the next month to kickstart offseason workouts.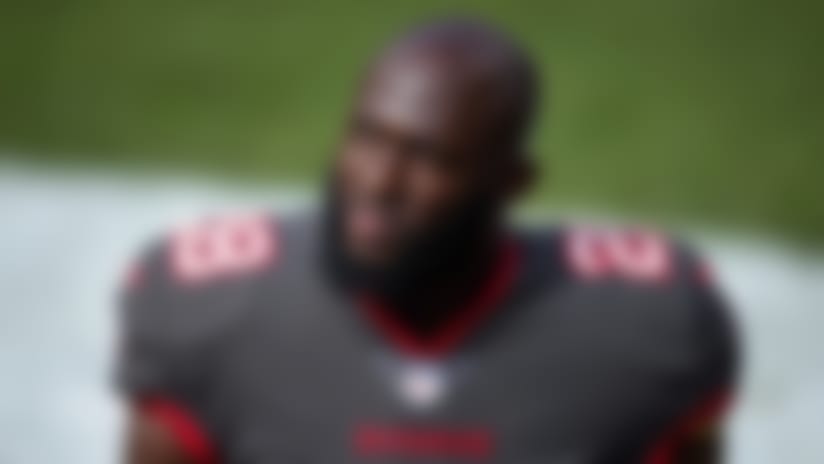 news
Buccaneers almost cut Leonard Fournette before epic playoff run
Leonard Fournette played a massive role in the playoffs, helping the Buccaneers reach and win the Super Bowl. According to coach Bruce Arians though, Fournette nearly didn't make it to the postseason with the club.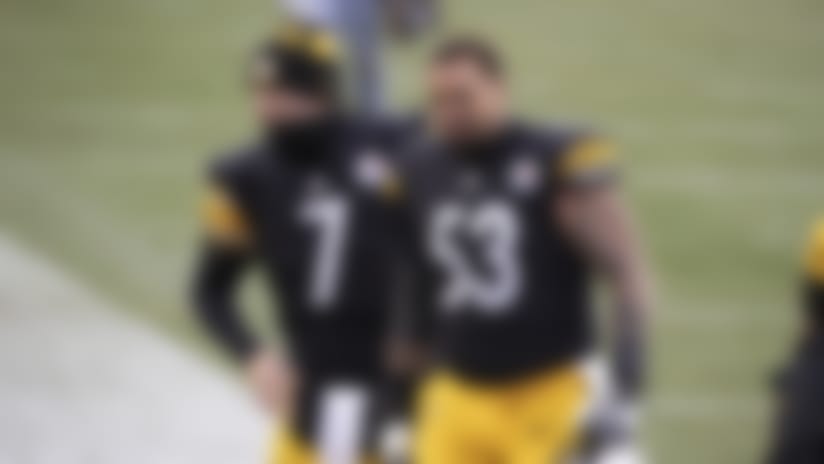 news
Ben Roethlisberger 'still processing' Maurkice Pouncey's retirement
Continuing his career without longtime center Maurkice Pouncey is a harsh reality Ben Roethlisberger will have to deal with should he return in 2021 as expected.
news
Matthew Stafford on trade to Rams: 'I asked to go to a team that was ready to win a championship'
In the aftermath of his blockbuster trade to the Rams, Matthew Stafford reiterated that his desire was to play for a contender. Did that mean the Patriots weren't on his wish list?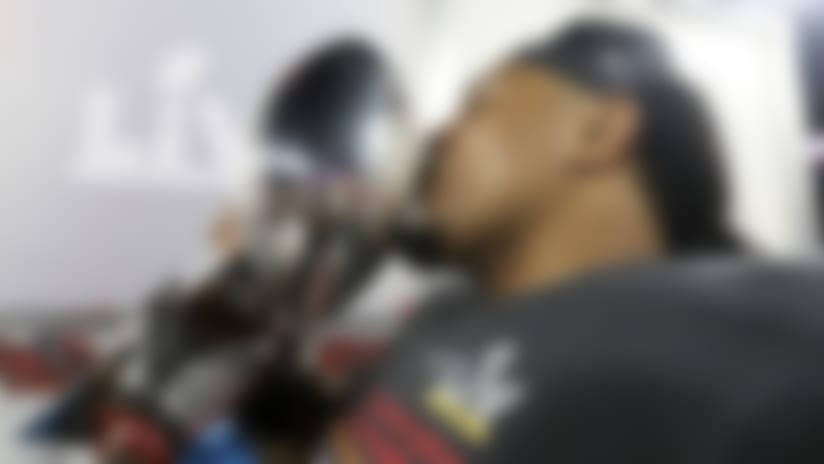 news
NFL Twitter celebrates Valentine's Day
Love is in the air — and the football Twittersphere. To celebrate Valentine's Day, NFL teams took to the internet to express their love for the game, reignite some old flames and offer the best and/or worst romance-adjacent puns that Twitter accounts can offer.
news
Three decades, four presidents equal seven Super Bowls for Tom Brady
Not only did Tom Brady win his seventh Super Bowl, but he became the first NFL player to win a title in three decades and the first to win a championship amid administrations of four presidents.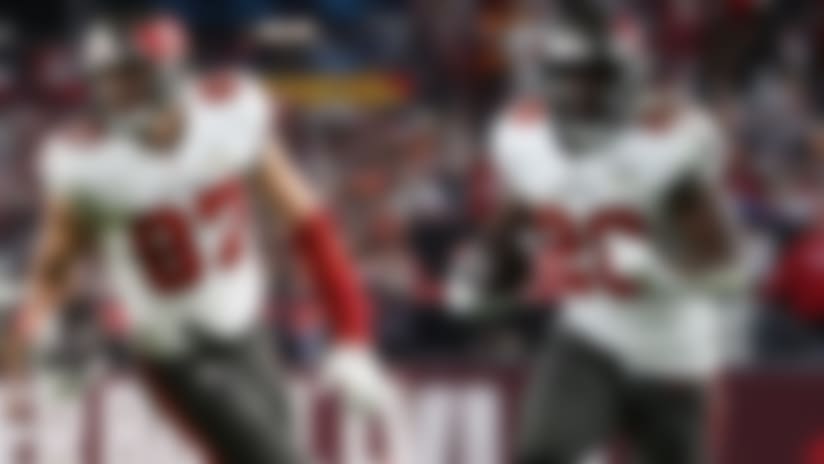 news
Buccaneers' historic Super Bowl team brimming with free agents
In the Bucs' 31-9 Super Bowl victory over the Kansas City Chiefs, Tampa Bay became the first team in the game's history to have all of its points scored by players who were not on the team the previous season, according to NFL Research. All four players — and many other key Bucs — are set to be free agents. 
news
Former Jets, Patriots WR Chris Hogan signs with Premier Lacrosse League
Chris Hogan is taking his talents to another pro league — and sport. The veteran wide receiver announced Saturday on Twitter he has signed with the Premier Lacrosse League for the 2021 season.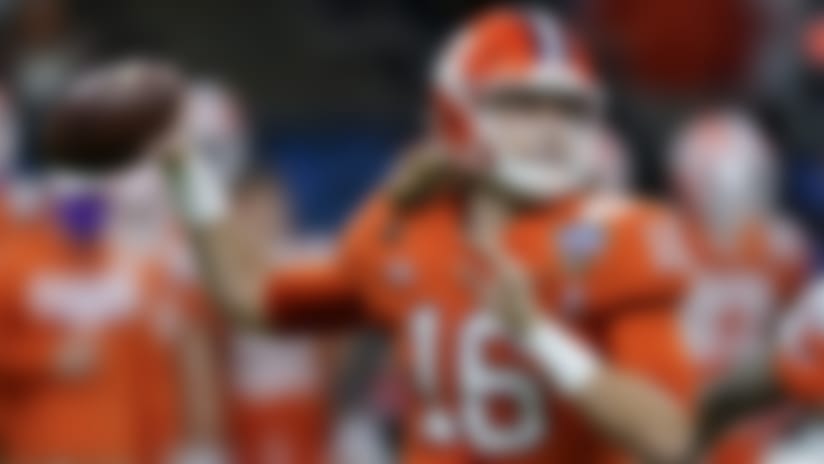 news
Trevor Lawrence to undergo labrum surgery Tuesday on non-throwing shoulder
Trevor Lawrence isn't wasting any time preparing for the start of his pro career. Four days after throwing at his personal pro day, the presumptive top pick of the 2021 NFL Draft will undergo labrum surgery Tuesday on his non-throwing shoulder, Ian Rapoport reports.
news
Anything but irrelevant: Buccaneers kicker Ryan Succop made history
As the Tampa Bay Buccaneers celebrated their Super Bowl LV victory over the Kansas City Chiefs, kicker Ryan Succop clinched the acclaim of being the greatest "Mr. Irrelevant" to have graced the gridiron, as he became the first to win a Super Bowl.
Please enable JavaScript to view the comments powered by Disqus.
Big left arrow icon Big right arrow icon Close icon Copy Url Three dots icon Down arrow icon Email icon Email icon Exit Fullscreen icon External link icon Facebook logo Football icon Facebook logo Instagram logo Snapchat logo YouTube logo TikTok logo Spotify logo LinkedIn logo Grid icon Key icon Left arrow icon Link icon Location icon Mail icon Menu icon Open icon Phone icon Play icon Radio icon Rewind icon Right arrow icon Search icon Select icon Selected icon TV icon Twitter logo Twitter logo Up arrow icon User icon Audio icon Tickets iconAdd to calendar iconNFC icon AFC icon NFL icon Carousel IconList ViewWebsite InstagramTwitterFacebookSnapchatShop IconProfile Overlay AvatarAddAirplayArrow LeftArrow RightArrow UpArrow DownAudioBack 5sBack 10sBack 30sCalendarChartCheckDownLeftRightUpChromecast OffChromecast OnCloseClosed CaptionsBench OffBench OnBroad OffBroad OnVertical OffVertical OnCommentDockDoneDownloadDraftFantasyFilterForward 5sForward 10sForward 30sFull Screen OffFull Screen OnGamepassGamesInsightsKeyLeaveLiveCombineDraftFantasyMenu GamesMenu NetworkMenu NewsMenu PlayoffsMenu Pro BowlMenu ShopMenu StandingsMenu StatsMenu Super BowlMenu TeamsMenu TicketsMenuMore HorizontalMore VerticalMy LocationNetworkNewsPauseplayMultiple PlayersSingle PlayerPlaylistPlayoffsPro BowlPurgeRefreshRemoveReplaySearchSettingsShare AndroidShare Copy URLShare EmailShare FacebookShare InstagramShare iOSShare SnapchatShare TwitterSkip NextSkip PreviousStandingsStarStatsSwapTeamsTicketsVideoVisibility OffVisibility OnVolume HiVolume LowVolume MediumVolume MuteWarningWebsite Caret downCaret upAt