"What is at stake is the increased chance of one of your loved ones becoming sick and then being hospitalized and dying around the holidays," said Henry Walke, the CDC's Covid-19 incident manager.
Still, many are planning to celebrate with friends and family this Thanksgiving — one of the most heavily traveled weeks of the year — as shown by the hours-long lines at Covid-19 testing centers in some cities. But even for those that can get tested, experts warn a negative result doesn't guarantee you'll be Covid-free by the time relatives, old and young, gather around the table for the turkey to be carved.
As the US tries to make it through a coronavirus Thanksgiving unscathed, Europe is already worried about Christmas.
Europe's leaders have forced hundreds of millions of people back into lockdown to combat a second wave of the virus, in the hopes that the crisis will improve by the holidays. Someone in Europe died from Covid-19 every 17 seconds over the past week, WHO Europe's Regional Director Hans Kluge said Thursday. But there are some positive signs that tier-based systems of restrictions are beginning to work: Cases dropped by 10% across the continent last week.
"It's a small signal, but it's a signal nevertheless," Kluge said.
YOU ASKED. WE ANSWERED
Q: Is it still safe to go to the gym?
A: It seems to be at one Virginia gym. Velvet Minnick, the owner and head coach of 460 Fitness, thought she had a nightmare scenario on her hands when she learned that 50 athletes were potentially exposed to Covid-19 by one of the gym's coaches. But not a single member ended up contracting the virus, thanks to the extra safety precautions and ventilation measures she put in place.
When Virginia entered Phase 2 of reopening in June and gyms were allowed to reopen, Minnick consulted one of her members — a professor of civil and environmental engineering at Virginia Tech — for help making the facility safe. Lindsey Marr, who joined 460 Fitness about two years ago, has an expertise in airborne transmission of viruses, air quality and nanotechnology.
Among the measures she put in place: Opening bay doors around the facility, workout stations spaced 10 feet apart, no sharing equipment, no traveling around the gym, and a carbon dioxide monitor to track indoor levels — a good indicator of whether viruses are building up in the air.
Send your questions here. Are you a health care worker fighting Covid-19? Message us on WhatsApp about the challenges you're facing: +1 347-322-0415.
WHAT'S IMPORTANT TODAY
Europe averted a Covid collapse — here's what the US could learn
Covid-19 is spreading faster than ever in the US, with hospitals in some states running at capacity. America is now in the same situation that France, Belgium and the Czech Republic were last month, when rapidly rising infections put their health care systems weeks away from collapse.
For now, these countries have managed to avoid the worst-case scenario, in which people die because hospitals are full and they can't access the care they need. They slowed down the epidemics by imposing lockdowns — a strategy that the US could learn from. The problem: Many governments are still making decisions based on politics, not science, Ivana Kottasová writes.
"By no means what we have done in Europe is perfect, these governments are probably reacting a little bit slowly, but they are at least reacting, they are doing what they can to make sure that health services are not overwhelmed … and I think this is clearly what's needed in the US," said one expert and UK government scientific adviser.
First White House Covid briefing in months presents two divergent realities
Standing in front of a map of the US awash in red, the White House coronavirus response coordinator appeared with other top health officials for the first time in months on Thursday. Dr. Deborah Birx delivered a grim assessment of the rapidly worsening pandemic — spurred in part by a cold snap in the country's heartland — and urged Americans to "increase their vigilance" as they eagerly await a vaccine.
Dr. Birx, once a senior member of the task force, said she's been traveling the country trying to encourage governors and other state and local leaders to enact measures that will stop the spread of the virus, repeatedly urging people to wear masks — and wearing one herself throughout the briefing. But she's had mixed results at best — including getting through to the Trump administration itself.
Striking a dramatically different tone, Vice President Mike Pence offered a far rosier assessment of the pandemic in America, saying the US "has never been more prepared" to take on the virus, as he spoke out against the need for nationwide lockdowns and school closures.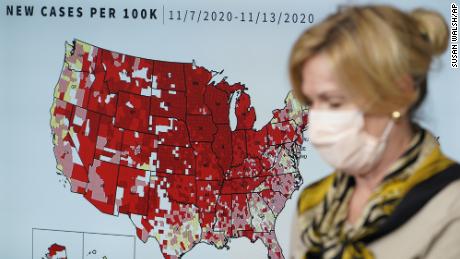 Dr. Birx speaks at a coronavirus task force briefing at the White House on Thursday.
WHO says remdesivir should not be used on hospitalized Covid patients
The WHO has advised against using the antiviral drug remdesivir to treat hospitalized patients, no matter how severe their illness may be. According to the update, published in the medical journal the BMJ, current evidence does not suggest remdesivir affects the risk of dying from Covid-19 or needing mechanical ventilation, among other important outcomes.
WHO's new update comes about a month after Gilead Sciences, the maker of remdesivir, announced that the US Food and Drug Administration approved the drug for the treatment of coronavirus infection. Remdesivir became the first coronavirus treatment to receive FDA approval. On Thursday, FDA gave emergency use authorization to a combination of remdesivir and the rheumatoid arthritis drug baricitinib to treat suspected or confirmed cases of Covid-19.
Remdesivir may have received FDA approval but not WHO's recommendation because of emerging research, said Dr. Amesh Adalja, senior scholar at the Johns Hopkins Center for Health Security, who was not involved in the WHO guidance. Studies initially showed some benefit against Covid-19, but as more data accumulates, that appears to be changing.
ON OUR RADAR
TOP TIPS
Public health experts have made it abundantly clear that you should not travel for Thanksgiving, or celebrate with people outside of your immediate household. But still, it's tough to thwart tradition — especially when it means saying "no" to your family.
If you opt to bail on Thanksgiving plans this year, etiquette experts say it's a good idea to express your choice as a personal one. Here are some more tips on declining invitations in the name of Covid, and how you might consider giving thanks a bit differently this year.
TODAY'S PODCAST
"You're one handshake away from heaven with this virus." — Reverend David Sealy's doctor
Reverend Sealy's congregation needs him for many things — socially distant services, phone calls, and funerals for those who've died from Covid-19. The problem is, he's at high risk himself. CNN Senior Writer Thomas Lake tells the story of a pastor from South Carolina. Listen Now.