The World Health Organization endorsed Saturday a protocol for testing African herbal medicines as potential treatments for the coronavirus and other epidemics.
Covid-19 has raised the issue of using traditional medicines to battle contemporary diseases, and the endorsement clearly encouraged testing with criteria similar to those used for molecules developed by labs in Asia, Europe or the Americas.
It came months after a bid by the president of Madagascar to promote a drink based on artemisia, a plant with proven efficacy in malaria treatment, was met with widespread scorn, AFP reports.
On Saturday, WHO experts and colleagues from two other organisations "endorsed a protocol for phase III clinical trials of herbal medicine for Covid-19 as well as a charter and terms of reference for the establishment of a data and safety monitoring board for herbal medicine clinical trials," a statement said.
"Phase III clinical trials are pivotal in fully assessing the safety and efficacy of a new medical product," it noted.
"If a traditional medicine product is found to be safe, efficacious and quality-assured, WHO will recommend [it] for a fast-tracked, large-scale local manufacturing," Prosper Tumusiime, a regional WHO director, was quoted as saying.
"The onset of Covid-19, like the Ebola outbreak in West Africa, has highlighted the need for strengthened health systems and accelerated research and development programmes, including on traditional medicines," Tumusiime said.
He did not refer specifically to the Madagascar drink Covid-Organics, also called CVO, that president Andry Rajoelina has pitched as a cure for the virus, however.
It has has been widely distributed in Madagascar and sold to several other countries, mainly in Africa.
In May, WHO Africa director Matshidiso Moeti told media that African governments had committed in 2000 to taking "traditional therapies" through the same clinical trials as other medication.
"I can understand the need, the drive to find something that can help," Moeti said. "But we would very much like to encourage this scientific process in which the governments themselves made a commitment."
Damien Gayle
Police in London made 32 arrests at an anti-lockdown demonstration in the centre of the city on Saturday.
According to a statement from the Metropolitan police, people were arrested for offences including violent disorder, public order and assault on an emergency worker, as well under Covid Regulations.
Two police officers suffered minor injuries, police said.
The Guardian witnessed police launched a surprise attack on the protest just after 4pm. Without warning police officers charged into Trafalgar Square, where the protest was taking place, in an apparent attempt to seize control of the stage.
Protesters used metal fencing to block the path of charging police and there were fistfights between protesters and officers.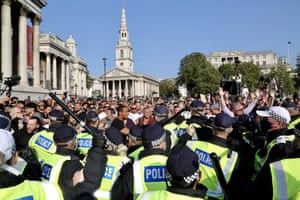 Members of StandUpX community, who are anti-vaccine and against coronavirus measures, face off with police officers, in London, United Kingdom on 19 September, 2020. Photograph: Anadolu Agency/Getty Images
Protesters on the scene were not warned ahead of the attack. About an hour beforehand police had released a statement online saying they were "encouraging" people to leave the protest and that those who remained could be arrested.
Police said the protest was cleared shortly after 6pm.
Superintendent Emma Richards, who was the Met's "gold commander" for the protest, claimed it was protesters who had shown hostility towards police.
She said: "We remain in the middle of a public health crisis, and by gathering in large numbers – such as today's protest – puts others at risk. We advised those in attendance to leave but many refused to do so.
"The amount of hostility shown towards officers, who were simply there to keep people safe, is unacceptable. More than 30 people were arrested and they remain in custody.
"The area around Trafalgar Square has now been cleared allowing Londoners to continue with their Saturday evening, whilst adhering to government advice."
The Philippines' health ministry on Saturday reported 3,962 new coronavirus infections and 100 additional deaths, with both numbers the highest in five days.
In a bulletin, the ministry said total confirmed cases have risen to 283,460, while deaths have reached 4,930, making it the worst-hit country in south-east Asia.
Of the new cases, 3,286 or 83% were detected in the last 14 days, the DOH said in its case bulletin.
There are also 68,645 patients who are active cases or are currently sick, of which 87.4% have mild symptoms, 9% have no symptoms, 2.5% are in critical condition and 1.1% are severe cases.
Metro Manila had the highest number of new cases among the provinces with 1,440 new infections, followed by Bulacan with 354, Cavite with 287, Laguna with 222 and Batangas with 213 more infected residents, according to CNN Philippines.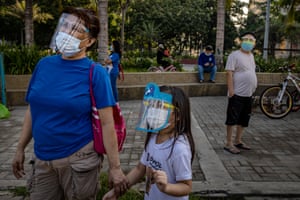 Filipinos wearing masks and face shields to protect against coronavirus visit Manila Baywalk on 19 September in Manila, the Philippines. Photograph: Ezra Acayan/Getty Images
Due to the coronavirus pandemic, president Rodrigo Duterte has extended a national state of emergency until September 2021 which empowers the national and local governments to use relief funds and control the prices of basic goods.
The Philippines remains on a partial lockdown that began in March to curb the spread of the virus but which has left millions of Filipinos jobless and hungry.
The US Congress remains at a standstill over passing another coronavirus rescue package, while tens of millions of people still can't afford enough food six months after the pandemic began upending Americans' lives, CNN reports:
Hunger has soared during the outbreak, and advocates are calling on lawmakers to extend two key child nutrition relief measures in their spending bill before the end of the fiscal year on September 30.

They are also pushing Congress to boost food stamp benefits, which will also help stimulate the economy.
Nearly 11% of adults said in July that their households sometimes or often didn't have enough to eat, up from 3.7% in 2019, according to Diane Whitmore Schanzenbach, director of the Institute for Policy Research at Northwestern University.

The share of adults in household with children in this situation was more than 14% in July, also far higher than last year.
The US Centers for Disease Control and Prevention (CDC) on Saturday reported 6,706,374 cases of coronavirus in total, an increase of 49,575 cases from its previous count a day earlier, and said the number of deaths had risen by 983 to 198,099.
Kenya's chief public prosecutor, Noordin Haji, has ordered a probe into $71m in "irregular procurement" linked to the coronavirus by the Kenya Medical Supplies Authority (Kemsa).
Hard-pressed Kenyan hospital staff have staged strikes to highlight what they say are scandalous practices by the authority, which purchases medication and equipment for the nation's public hospitals, AFP reports.
Three weeks ago, the president, Uhuru Kenyatta, asked the national Ethics and Anti-Corruption Commission (EACC) to investigate contracts granted to influential figures, including politicians, without respect for rules of public procurement.
Its report was submitted on Friday to the prosecutor, who concluded that "irregular procurement and fraudulent payments" had been made totalling 7.8bn Kenyan shillings (around £56m).
Haji then instructed senior prosecutors "to undertake an independent and comprehensive review of the file" within two weeks, he said.
The EACC probe has already led to the suspension of Kemsa's head, Jonah Manjari, and supply director, Charles Juma.
Several Kenyan businessmen have already been accused of siphoning off around £310m worth of public funds destined to pay for medical equipment needed in the battle against Covid-19.
Kemsa's overall coronavirus budget is not known.
The virus has infected at least 36,800 people in Kenya, which ranks 137 out of 180 countries on a corruption perception index compiled by the non-governmental organisation Transparency International.
New record rise in infections in France
France has joined a string of other countries in reporting yet another record increase in infections today.
French health authorities reported 13,498 new confirmed coronavirus cases on Saturday, setting another record in daily additional infections since the disease started to spread in the country.
The number of people in France who have died from Covid-19 was up by 26, at 31,274, and the cumulative number of cases now totals 442,194, as the seven-day moving average of daily new infections rose to more than 9,700, compared with a low of 272 at the end of May, two weeks after the lockdown was lifted.
A faster circulation of the virus and a six-fold increase in testing since the government made it free are the two main reasons for the scale of the increase, epidemiologists have said, according to Reuters.
Health authorities reported a sudden jump in the country's daily death toll from Covid-19 on Friday because of unreported cases in one hospital near Paris.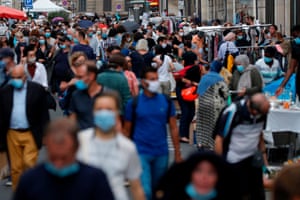 People wearing protective face masks stroll through a flea market in Paris centre on 19 September, 2020. Photograph: Geoffroy van der Hasselt/AFP/Getty Images
Doctors are urging the government to introduce stronger coronavirus measures in England to drive down case numbers and avoid another national lockdown.
The British Medical Association (BMA) said that unless people stick rigorously to social distancing and infection control measures, or there is better enforcement, infection rates will soar and the NHS will "once again be crippled" as it tries to cope with the number of patients with Covid-19, the Press Association reports.
The warning came after the prime minister, Boris Johnson, admitted on Friday the long-feared second wave of the pandemic has reached the UK.
While doctors want to avoid another national lockdown, the BMA said recent restrictions have been inadequate and have failed to make any significant impact on the spread of the infection.
The BMA is calling on the government to reconsider the "rule of six", which was introduced in England on Monday banning social gatherings of more than six people.
The BMA wants the number of households people can visit to be reduced, stating that as it currently stands, the rule of six makes it possible for members of six households to meet indoors, potentially many times over the course of one day.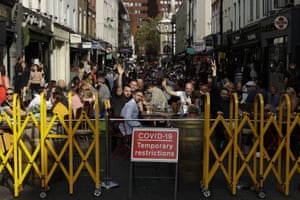 People react to being photographed as they sit outside on a street closed to traffic, so bars and restaurants can continue to stay open, in the Soho, central London, on Saturday, 19 September. Fresh nationwide lockdown restrictions in England look more likely after government targeted more areas on Friday. Photograph: Matt Dunham/AP
It is also urging the government to reverse its stance on getting workers back to the office by encouraging the public to work from home, in order to reduce contact between people including on public transport.
The BMA said unnecessary travel and social gatherings should be discouraged, while it suggested a "take out to help out" approach similar to the chancellor's Eat Out to Help Out scheme in order to reduce the number of people in restaurants.
It also called for entrances to indoor public settings to provide inexpensive disposable surgical masks, and for people over 60 and who have underlying conditions to wear medical grade masks.
Dr Chaand Nagpaul, chairman of the BMA, said: "It is vital to reduce avoidable mixing of people at a time when the infection is spreading without the testing capacity to identify those with the infection.
"This requires revisiting the rule of six which allows members of six different household to meet indoors compared to a maximum of two previously, and reversing the encouragement to travel and return to work for those able to work remotely."
Canada's most populous province is cracking down on private social gatherings as coronavirus cases surge, Ontario premier Doug Ford said in a surprise news conference called on Saturday.
Ontario reported 407 new cases on Saturday compared with about 80 per day two weeks ago.
Canada on Friday recorded 1,044 new cases from a day earlier, making it the third time in five days that new daily infections have topped 1,000.
Ontario is scrambling to tamp down a recent spike in coronavirus cases as children return to school and the province struggles to increase its testing capacity, forcing many in cities to wait in line for hours this week to get swabbed, Reuters reports.
Private parties are a "significant contributor" to the recent rise, provincial health minister Christine Elliott said.
"Folks, we can't have these wild parties right now. It's just way, way too risky," Ford said in a nationally broadcast news conference.
"We have to come down hard on the rule breakers."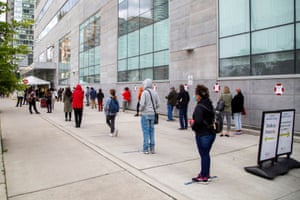 People wait in line at a coronavirus testing facility in Toronto, Ontario, Canada on 18 September, 2020. Photograph: Carlos Osorio/Reuters
Earlier this week, the nation's top medical officer warned that authorities could potentially lose the ability to manage the pandemic if action were not taken to slow the spread.
On Friday, Quebec said police would target more than 1,000 bars and restaurants to enforce rules curbing the spread of the virus as authorities warned of a possible second wave.
Similar to an announcement made two days ago and aimed at just three cities, including Toronto and Ottawa, indoor social events can include no more than 10 people, down from a previous limit of 50.
As of Saturday and for the next 28 days, the cap on outdoor gatherings will shrink to 25 from 100.
Anyone holding an illegal party can face a fine of C$10,000 ($7,580), and those caught attending one a fine of up to C$750, Ford said.
After Poland reported record daily new coronavirus cases on Saturday, neighbouring EU members Lithuania and Slovakia also logged their largest daily tallies since the pandemic began.
The eastern European figures are in line with a surge in cases across Europe since August that has caused many countries to move back towards tougher restrictions.
"The numbers that we're seeing now are a result of people having returned to normal, everyday life, a return to work," Polish health ministry spokesman Wojciech Andrusiewicz said.
"It's what we're seeing in the streets every day: more people, more contact," he told the Polish news agency PAP.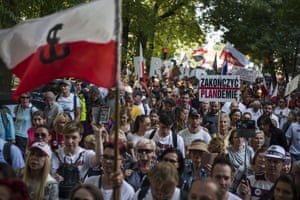 Protesters waving Polish flags during a demonstration organised by opponents of restrictions related to the coronavirus pandemic in Warsaw, Poland on 12 September, with participants chanting 'No more lies, no more masks, stop the pandemic'. Photograph: Attila Husejnow/SOPA Images/Rex/Shutterstock
The increase brings the total of reported coronavirus cases in the nation of 38 million people to 78,330.
The ministry also reported 12 new Covid deaths on Saturday, putting that total at close to 2,300.
In neighbouring Slovakia, a nation of 5.4 million people, the latest figure of 290 new infections brought its total to more than 6,500 cases.
"Now we have a new record. Today, the situation is becoming critical," Slovak prime minister Igor Matovic wrote on Facebook.
"However, if we remain responsible, we will live relatively freely despite the pandemic."
Lithuania, a Baltic state with a population of 2.8 million, reported its highest daily count as well, with 99 new infections putting the country's total at more than 3,600 cases.
The Czech Republic for its part reported more than 2,100 new cases, a day after registering a record of 3,130 new infections, AFP reports.
Police have launched a surprise attack on the anti-lockdown demonstration in Trafalgar Square in London, my colleague Damien Gayle reports:
At 4pm, officers ran en masse towards the stage at the top of the steps leading to the National Gallery.

The crowd surged forward and was able to use steel fencing to block the charge.

It came about an hour after police announced they would be "encouraging" people to leave.

They have now donned their Nato helmets and taken out truncheons.

Innkeepers in Munich tapped their barrels on Saturday for revellers determined to make the most of a scaled-down Oktoberfest after the world's biggest beer festival was cancelled because of the coronavirus pandemic.
The specially brewed beer started flowing at midday at 54 pubs with locals in traditional lederhosen and dirndls sitting at spread-out tables and, where possible, outside.
However, it is a far cry from the six million visitors from all over the world who usually flock to the Bavarian capital to squeeze into tents with long wooden tables and benches to swig beer and sing and sway to oompah band tunes.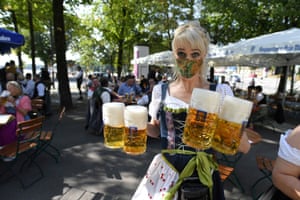 A server carries mugs during a barrel tapping at a beer garden near Theresienwiese in Munich, Germany on 19 September, where Oktoberfest would have started today had it not been cancelled due to the pandemic. Photograph: Andreas Gebert/Reuters
Each year, the partygoers consume more than 7 million litres of beer, more than 100 oxen and half a million chickens.
The first Oktoberfest was held in 1810 in honour of Bavarian Crown Prince Ludwig's marriage and now it typically brings Munich some €1.2bn in annual revenues, though not this year.
A spike in infections in Munich has increased worries about the spread of coronavirus, Reuters reports.
Although Germany has kept the number of cases and deaths lower than many of its European neighbours, the number of infections rose on Saturday by 2,297, the highest daily increase since the end of April, the Robert Koch Institute said.
That brings Germany's total tally of cases to 270,070, with 9,384 deaths, including six new fatalities reported on Saturday.
The UK reported 4,422 new daily cases of coronavirus on Saturday, 100 more new cases than on Friday and the highest daily total since 8 May.
Overall, 390,358 cases of the virus have been confirmed across the country.
The government said a further 27 people had died within 28 days of testing positive for Covid-19 as of Saturday, which brings the UK total to 41,759 official deaths.
Separate figures published by the UK's statistics agencies show there have now been 57,500 deaths registered in the UK where Covid-19 was mentioned on the death certificate.
Thousands of asylum seekers have moved into a new temporary facility on the Greek island of Lesbos, government officials said on Saturday, 10 days after a fire destroyed the Moria camp.
The fire left more than 12,000 people, most of them refugees from Afghanistan, Syria and various African countries, without shelter, proper sanitation or access to food and water.
About 9,000 people had been resettled in the new tent camp, set up by authorities at Kara Tepe near the port of Mytilene, by Saturday morning, Reuters reports.
Those entering the camp were being registered and tested for coronavirus.
At least 214 were placed in quarantine after positive tests.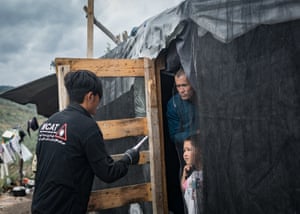 A member of the Moria Corona Awareness Team distributes an information leaflet to inhabitans of the Moria refugee Camp on Lesbos, Greece, in May 2020. Photograph: Julian Busch/The Guardian
Traffic was returning to normal on the roads, where thousands of migrants had camped for days after the fire, and shops in the area started reopening.
Greek police launched an operation on Thursday to speed up the resettlement of migrants.
Many had been reluctant to enter the temporary camp as they had hoped to leave Lesbos after the fire and reach other European countries.
Authorities believe the fire that gutted the Moria camp, notorious for its living conditions, was started by migrants following a dispute over coronavirus quarantine measures at the facility after dozens of asylum seekers tested positive.
Six people have been arrested and charged with arson.

Jedidajah Otte
Hello, I'm taking over for the next few hours. If you have relevant updates to share, do get in touch, you can get me on Twitter @JedySays or via email.
I won't always be able to reply, but will read everything you send my way.
Summary
A further 16 people who tested positive for coronavirus have died in hospital in England. The latest figures bring the total number of confirmed reported deaths in hospitals to 29,735.
Scotland's first minister, Nicola Sturgeon, has reiterated her call for Boris Johnson to convene a Cobra meeting within the next 48 hours. Sturgeon called on everyone in Scotland to be careful and abide by restrictions in a series of tweets published today.
Scuffles have broken out between demonstrators and police at the rally in London, UK organised by opponents of coronavirus lockdown measures.
France's public health authority has admitted making an error with its daily Covid-19 figures. The authority had reported that deaths had risen by an additional 123 in 24 hours and hospital admissions had jumped by 850.
The epidemiologist whose modelling helped shape Britain's coronavirus lockdown strategy has said that new coronavirus restrictions will be needed in England "sooner rather than later". Prof Neil Ferguson, who resigned from the government's Scientific Advisory Group for Emergencies (Sage), said the country was facing a "perfect storm" after the easing of controls over the summer.
The London mayor, Sadiq Khan, said it was increasingly likely that lockdown restrictions would soon be needed to slow the spread of coronavirus in London. He said action should be taken before the virus spiraled out of control, and leaders were considering measures already imposed in other parts of the UK.
Poland and Indonesia report record daily coronavirus cases. Poland reported 1,002 new coronavirus cases on Saturday, according to the health ministry's Twitter account, the highest daily increase since the pandemic began, while Indonesia reported its biggest daily rise in coronavirus infections, with 4,168 new cases on Saturday, taking the total to 240,687, data from the country's health ministry showed.
Damien Gayle
The Metropolitan police have said their officers are now encouraging people to leave the anti-lockdown rally taking place in central London.
In a statement published just before 3pm, the force said officers were in attendance and adopting "the four [sic] Es approach to explain, engage and encourage them to leave throughout today".
"Despite this, protesters have remained in place, putting themselves and others at risk," the force said. "This, coupled with pockets of hostility and outbreaks of violence towards officers, means we will now be taking enforcement action to disperse those who remain in the area. Those who remain may get arrested."
The announcement comes after police scuffled with protesters in central London earlier this afternoon.
The confrontation came several hours into the rally, which began at midday, after the MC, so-called "natural nurse" Kate Shemirani, called for men to head to the north-west corner of the square, where police were beginning to gather.
Aside from that confrontation, the gathering had been peaceful, with protesters airing a range of grievances ranging from opposition to coronavirus lockdown measures, masks and mass vaccinations, to child trafficking and the increasingly popular QAnon conspiracy.
My colleague Damien Gayle is at the anti-vaccination, anti-lockdown demonstration in central London.
A University College Dublin professor told the anti-vax rally the coronavirus vaccine will "make people sick", PA reports.
Prof Dolores Cahill told the crowd:
We want freedom, truth and love.

I know that vaccines make people sick, you should not trust the government, the doctors and the media, they are lying about the Covid-19 vaccine.

Vaccines have not been safety-tested, they tell you when you take a vaccine you'll get a little bit of swelling, is that true? No.

You can get multiple sclerosis and allergies, when I talk to parents, there are 12 known diseases you can get.

If you're a parent, auntie, grandparent, cousin or neighbour, we're here to say the truth will come out.
A further 16 people who tested positive for coronavirus have died in hospital in England. The latest figures bring the total number of confirmed reported deaths in hospitals to 29,735.
Patients were aged between 69 and 97 and all had known underlying health conditions, NHS England said on Saturday.
A partial lockdown aimed at stemming a sharp rise in Covid-19 cases is set to begin in some of Madrid's poorer districts next week, but residents of one of the worst-hit neighbourhood's said today they doubted the new measures would work.
Reuters reports:
Vallecas, a southern district with a lower average income and higher immigrant population, has one of the highest infection rates in the Spanish capital – almost six times higher than in Chamberi, a wealthier, northern district.

"These restrictions are completely useless because we have to travel from one area which has a lot of cases to another which has less and we are going to spread it," said Feli, 48, a civil servant who lives in Vallecas.

Under the restrictions, announced by Madrid's regional government on Friday, movement between and within six districts that are home to about 850,000 people will be restricted from Monday, but people will still be able to go to work.