BMA survey also found 90% thought test-and-trace failures were a risk factor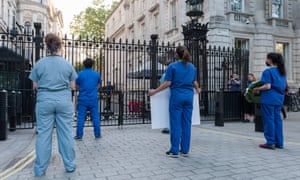 NHS staff staging a silent protest outside Downing Street in May. Photograph: Barcroft Media/Getty Images
Almost 86% of doctors in England say they expect a second peak of coronavirus in the next six months, according to a new survey, as concern continues to grow over a recent rise in cases.
On Friday, new results from a population-based study suggested the R number for England is now at 1.7, with infections doubling every 7.7 days. While the prevalence of the disease remains lower than it was in the spring, an R value above 1 means cases could grow exponentially.
Sunday marked the third day in a row that new coronaviruses cases reported for the UK topped 3,000 – the highest figures since May – with 2,837 new cases reported in England alone. While testing has increased over the past months, experts have said this does not fully explain the recent surge.
In a poll, the British Medical Association (BMA) asked more than 8,000 doctors and medical students in England what their top concerns were out of five possibilities, from a second peak of coronavirus to sickness and burnout among staff and winter pressures, including a possible flu outbreak. Almost 30% of respondents selected a second peak as their number-one worry.
Overall, 86% of respondents said they believed a second peak of coronavirus during the next six months is either "quite likely" or "very likely".